Health Informatics Laboratory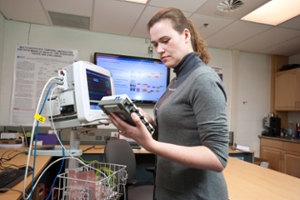 This lab supports fundamental and applied research within the health informatics domain, with a focus on its ability to simulate current and proposed next-generation functions within intensive care units (ICUs), specifically neonatal ICUs (NICUs). No similar innovative advanced prototyping and simulation environment to support next-generation health informatics solutions exists in the world.
The lab contains three medical devices used within ICUs, as well as a range of small fanless computers, laptops, personal digital assistants (PDAs) and computer servers. The small fanless computers, laptops and PDAs simulate functions related to data-collection units, NICU control stations, specialist workstations, remote-access specialist workstations and/or the referral control centre. The environment is configured to enable the simulation of a range of scenarios incorporating ICUs, remote hospitals, and a referral control centre with specialist remote access.