Master of Health Sciences in Health Informatics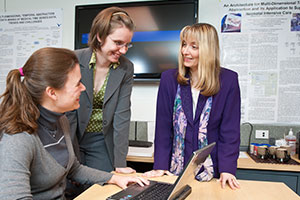 The Health Informatics field focuses on the effective use of health information and the development of technology towards improving peoples' health and the delivery of health care. You will work with leading-edge researchers and learn about the latest approaches to health informatics. 
You will find yourself immersed in a research-intensive learning environment that will provide you with a wide range of research opportunities including:
Applications of artificial intelligence in health care.
Clinical simulations.
Delivering health information through mobile and remote communications technology.
Mining and security of health information.
Modelling a patient's journey through the health-care system.
In our state-of-the-art health informatics laboratories, you will have the opportunity to undertake research with world-class faculty, and various corporate and community partners. The program prepares you to help design, implement and manage systems in a diverse range of health informatics services to more efficiently and effectively deliver health care. This program is also designed to prepare graduates for doctoral studies.
For more information, call 905.721.8668 ext. 3166, email 
healthsciences@ontariotechu.ca
or visit 
hir.uoit.ca
.