Industry Placements and Entrepreneurship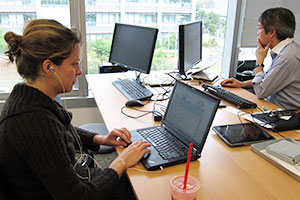 The Faculty of Business and Information Technology (FBIT) has developed strong ties to businesses and organizations, both within our local communities and around the globe. These connections provide great benefits for our students including opportunities for internships, capstone projects and research collaborations, both locally and abroad.
Our strong industry partnerships lead to a greater awareness of the quality of our graduates. Many industries actively recruit our graduates because they know they are educated to their own recommended standards.
FBIT's globally connected faculty members provide a number of close connections to many successful businesses from around the world. Our close partnerships in Europe, Asia and South America offer exciting international opportunities for our students.
Venture Creation

The Faculty of Business & Information Technology (FBIT) is now offering a new Venture Creation Course (3 credits) open to all Ontario Tech students. FBIT has partnered with the Business Advisory Centre Durham and Brilliant Catalyst to help with skill development, so students can complete their work term and training with a partnering organization at any point in the year—starting this summer—but they will be graded for it in the 2021 winter semester. Choose to pursue a business you already own and operate, or begin a new business venture! Interested and think you'll benefit from this opportunity?

Fill out the Venture Creation Course Application Form and email it to us at FBITEXL@ontariotechu.ca.

See this year's Venture Creation start-up pitches! 

 

Entrepreneurship

We believe our students will be the architects of the new economy – the creators, visionaries, and entrepreneurs who will create the goods and services of the future. We endeavour to promote entrepreneurism to our students, both inside and outside of the classroom.

Students interested in Entrepreneurship are encouraged to check out the programs offered through Brilliant Catalyst. 

Our Bachelor of Commerce degree emphasizes strong entrepreneurship components, including courses such as:

Management of the Enterprise
Introduction to Entrepreneurship
Entrepreneurial Finance
Advanced Entrepreneurship

Our Game Development and Entrepreneurship program is designed to provide students with expertise in the field of game design and technology, but is unique in that its core value is entrepreneurship. The curriculum allows graduates to quickly advance their careers by having the knowledge and skills they need in business and management to facilitate rewarding employment in existing opportunities or entrepreneurial ventures. Many of our graduates have gone on to start up their own gaming companies.

Students majoring in our other program areas have the opportunity to minor in Entrepreneurship.

In addition, we have a close connection with international entrepreneurial startup companies that have provided our students with exciting internship opportunities. Many of our own professors are also entrepreneurs themselves.