Technology Management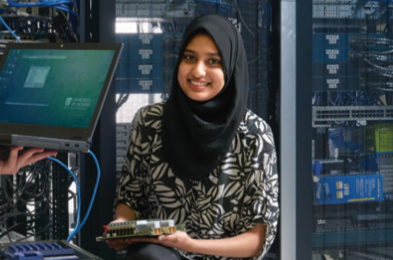 Our Technology Management major offers a focus on information technology (IT) with a complementary set of business courses designed to meet the needs of today's technology-enabled economy. Our programs will develop your skills in data analytics information systems, change management, and data security. Our programs are designed to provide you with an innovative and market-driven curriculum, so you will be prepared to lead and succeed in the 21st-century workplace.
We are excited to launch our newest major, Technology Management, available for students in both our Bachelor of Commerce and Bachelor of Information Technology degree programs.
A Technology Management major creates well-rounded individuals who can understand the worlds of both business and IT. Graduates will be able to communicate across traditional boundaries, taking a holistic view of how IT and business work together to make organizations and individuals more successful, aware, and secure.
The program offers a balance of business and information technology courses designed to meet the needs of today's technology-enabled economy. You will develop skills in design thinking, business analytics, information systems, and IT security. You can benefit from exciting experiential learning opportunities including internship, capstone, and international exchanges. We will provide you with the knowledge and skills necessary to become an effective project leader, supervisor, or manager in today's ever changing business and technical environment.
Courses
COMMON

BUSI 1520U Business Computer Applications
BUSI 1020U Business Communication
BUSI 1600U Management of the Enterprise
INFR 1100U Intro to Programming
BUSI 2500U Business Simulation & Analytics
BUSI 2550U Intro to Project Management
BUSI 1450U Statistics
BUSI 2603U Intro to Operations Management
BUSI 3550U Systems Analysis & Design
BUSI 3040U Information Systems
BUSI 4590U Topics in Technology Management
BUSI 4504U Business Intelligence & Data   Warehouses
INFR 4680U IT Security Policies & Procedures
BUSI 4040U Emerging Trends in Technology Management
BUSI 4570U Strategic Information Technology Management
INFR 4680U IT Security Policies & Procedures
COMMERCE (BCOM)

Finance courses
Accounting courses
Economics courses
INFORMATION TECHNOLOGY (BIT)

Algorithm courses
Cryptography courses
Database courses
HCI courses