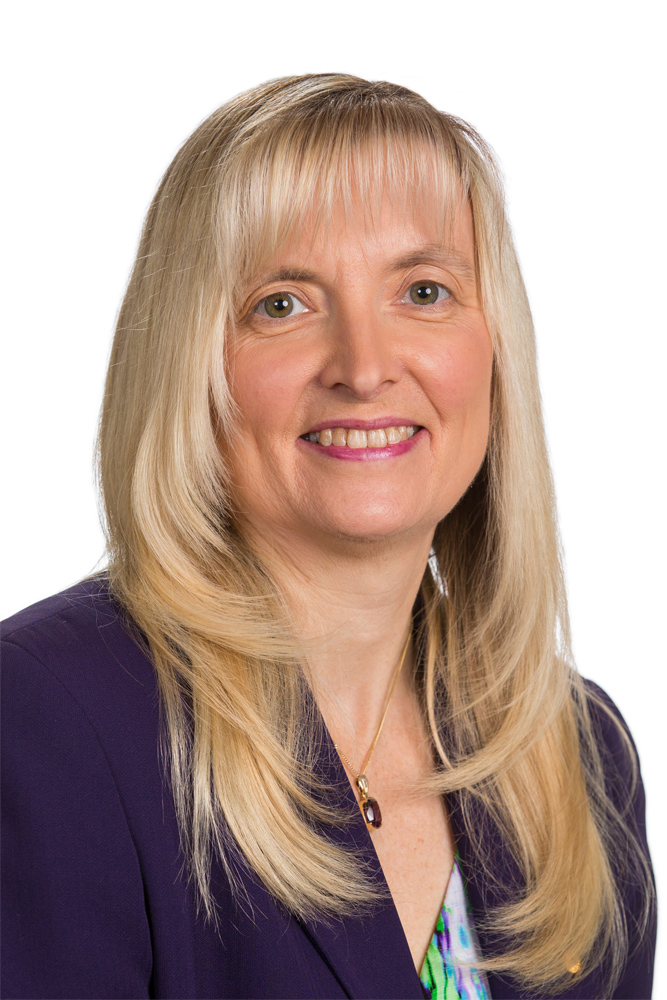 Carolyn McGregor AM

PhD, BAPPSC, SMIEEE
Interim Dean
Research Excellence Chair; Canada Research Chair in Health Informatics (Alumni)
Faculty of Business and Information Technology
Contact information
Software and Informatics Research Centre (SIRC) - Room 4388
North Oshawa
2000 Simcoe Street North
Oshawa, ON L1G 0C5
905.721.8668 ext. 3697
---
Research topics
Big Data analytics
event stream processing
temporal data mining
business process modelling
cloud computing
health informatics
critical care informatics
neonatal informatics
resilience assessment and development
space medicine
Background
Professor Carolyn McGregor AM is the Research Chair in Artificial Intelligence for Health and Wellness and a two-time Canada Research Chair in Health Informatics based at Ontario Tech University. She is the Founding Director of the Joint Research Centre in Artificial Intelligence for Health and Wellness between Ontario Tech University and University of Technology Sydney, Australia. Dr McGregor AM has led pioneering research in Big Data analytics, artificial intelligence, deep learning, internet of things, stream computing, edge computing, temporal data mining and cloud computing. She now progresses this research within the context of critical care medicine, precision public health, mental health, astronaut health and military and civilian tactical training. She is the inventor and lead on two international award-winning AI driven Big Data analytics platforms for health and wellness, Artemis and Athena. She was awarded membership in the Order of Australia (AM) for her significant service to science and innovation through health care information systems. She was named a Women Leader in Digital Health by Digital Health Canada
She has been awarded over $16 million in research, consultancy and infrastructure funding and has led multiple large research programs including a multi-million dollar First of A Kind (FOAK) research program with IBM and a $3M project within the FedDev Health Ecosphere Innovation Pipeline project. She has over 190 refereed publications, 3 patent in multiple jurisdictions and has established two startup companies resulting from her research. She has extensive research collaborations in Canada, Australia, UK, USA, Russia and India. She has also been called upon to advise various government working groups in Canada. She has received many awards for her research.
Her Artemis platform was selected as one of 5 inaugural Pathfinder projects for Ontario by the Vector Institute and precommercialisation of her Artemis platform was a flagship project of the $30 Million Health Ecosphere Innovation Pipeline project in Ontario.
She has provided strategic consultative support to Ontario Shores Centre for Mental Health Services and Providence Care in the area of Patient Journey Modelling to support their transition to new electronic health records and in her current role as Research Chair in Artificial Intelligence for Health and Wellness between Ontario Tech and Ontario Shores she is leading big data and artificial intelligence based research to reduce incidences of patient aggression and assist staff with new approaches to train for situations when it does occur.
She currently leads two research studies on the International Space Station for new approaches to astronaut health monitoring.
She has successfully completed two Department of National Defence IDEaS research contracts to progress a new solution for Pre-deployment Acclimation Strategies and Resilience Assessment and Techniques for Extreme Climatic Conditions Using Ontario Tech's one of a kind ACE Facility utilizing ACE's Extreme Climate Chambers.
She has been the recipient of multiple Early Career Researcher Excellence Awards and Senior Researcher Excellence Awards at Ontario Tech.
In 2021-22 she is serving as the Vice President, Member and Student Activities of the IEEE Engineering in Medicine and Biology society. and the IEEE Computer society's representative to IEEE Brain. In 2022 she was appointed a Founding co-Chair of the IEEE Public Safety Technology Initiative.
In 2017 she was featured in the 150 Stories series commissioned by the Lieutenant Governor of Ontario and the Government of Canada to commemorate the 150th year anniversary of Ontario.
In 2015 she was awarded the Advance Global Australian award for Technology Innovation, an award for Australian diaspora.
In 2013 her Artemis research project was awarded the Ingenious Award in the Not for Profit category by the Information Technology Association of Canada.
In 2012 an Artificial Intelligence in Medicine paper she co-authored with a former PhD student in 2007 was recognised as the 3rd most cited article in that journal in the six years since 2007.
In 2008 she was awarded a multi-million dollar IBM First of a Kind Research (FOAK) Award. In 2009 she received the IBM Infosphere Innovation award for her UOIT based team's role in project Artemis. In 2011 she was one of four international innovators featured in the IBM Centennial "Wild Ducks" video, also now available on YouTube.
She was the first Australian to be invited to complete a prestigious three month research internship with IBM's TJ Watson Research Center in Yorktown, NY, usually only offered to American researchers while she was completing her PhD.
Education
Bachelor of Applied Science in Computer Science (graduated second in her year with first-class honours)

University of Technology in Sydney, Australia

PhD in Computing Science

University of Technology in Sydney, Australia
Research and expertise
Big Data analytics
Artificial intelligence
Deep Learning
Internet of Things
Stream Computing
Edge Computing
Temporal Data Mining
Cloud Computing
Health Informatics
Neonatal Informatics
Resilience Assessment and Development
Astronaut Health Monitoring
Autonomous Health Monitoring in Space
Engineering and Medicine in Extreme Environments
Acclimation Assessment and Development
2021 - FBIT Research Excellence Award (Senior Research category) 
2018 - FBIT Research Excellence Award (Senior Researcher category)
2012 - Awarded Renewal of Canada Research Chair in Health Informatics
2011 - IBM Centenary Video: Selected as one of only four people who were featured in the video as significant innovators of the century of IBM (see Media coverage section for link to video on YouTube)
2010 - Received the University of Ontario Institute of Technology Research Excellence Award – Early Stage Researcher
2009 - Received the international IBM Infosphere Innovation Award
2008 - Awarded IBM First of a Kind Collaboration
2007 - Awarded Canada Research Chair in Health Informatics
2003 - Finalist, The Chancellors Award for PhD Dissertation
2001 - PhD Research Internship with IBM's T.J. Watson Research Center, Yorktown, N.Y.
2018 - Women Leader in Digital Health, Digital Health Canada

2018 - IEEE Life Sciences - Outstanding Service Award

2018 - Innovation Award Finalist - IT Support for Artemis Project, CUCCIO

2017 - Ambassador, Business Events Sydney, New South Wales

2016 - Alumni Luminary, University of Technology, Sydney

2015 - Alumni of the Year Award, University of Technology, Sydney Faculty of Engineering and Information Technology

2015 - Eve Innovation Award, Newborn Foundation

2015 - Advance Global Australian Award – Technology Innovation

2014 - Member of the Order of Australia – General Division for significant service to science and innovation through health care information systems

2013 - Artemis project received the Ingenious Award by the Information Technology Association of Canada (ITAC) for the not-for-profit category

2011 - Voted by IEEE North American Members to be the North A merica – Canada representative on the IEEE EMBS Administrative Committee (ADCOM), 2012-14

2008 - Voted by IEEE North American Members to be the North America – Canada representative on the IEEE EMBS Administrative Committee (ADCOM), 2009-11

2008 - Inaugural IEEE EMBS Liaison to the IEEE Women in Engineering Committee, appointed by IEEE EMBS President

2007 - Vice-Chair, IEEE EMBS Toronto Chapter