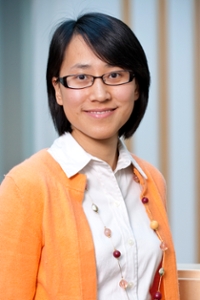 Ying (Annie) Jiang

PhD
Associate Professor
Marketing
Faculty of Business and Information Technology
Contact information
Business and Information Technology Building - Room 3037
North Oshawa
2000 Simcoe Street North
Oshawa, ON L1G 0C5
905.721.8668 ext. 2620
---
Research topics
Consumer decision making
Consumer food consumption
Consumer new product adoption
Mobile marketing
Background
Dr. Ying (Annie) Jiang is an Associate Professor of Marketing at the Faculty of Business and Information Technology. She received her Ph.D. in Marketing from the University of Connecticut, M.Phil. in Marketing from Hong Kong Baptist University, and B.A. in Economics from East China University of Science and Technology in Shanghai, China. Her research mainly focuses on consumer decision-making, consumer goal pursuit, hedonic consumption, and mobile marketing. She has published in leading marketing journals such as Journal of Marketing Research, Journal of Consumer Psychology, and Journal of the Academy of Marketing Science.
Dr. Jiang is currently conducting a study that aims to help Canadian agricultural product build their brand associations with Chinese consumers in order to deliver unique, meaningful, and appealing brand identities. This study will identify and test the effects of key country-of-origin dimensions, unique Canada and Ontario symbols, and specific product grouping related to an aspirational lifestyle on consumers' perception of Canadian and Ontario agricultural products along with their purchase intentions. 
Education
PhD (Marketing)

University of Connecticut, United States

Master of Philosophy (Marketing)

Hong Kong Baptist University in Hong Kong, China

Bachelor of Arts (Economics)

East China University of Science and Technology in Shanghai, China
Courses taught
Consumer Behaviour
Services Marketing
International Marketing
Research and expertise
consumer decision-making
consumer food consumption

consumer new product adoption

mobile marketing
Involvement
Selected publications

Zhenfeng Ma, Tripat Gill, and Ying Jiang (2015), "Core versus Peripheral Innovations: The Effect of Innovation Locus on Consumer Adoption of New Products," Journal of Marketing Research, 52 (3), 309-324.
Dong Jin Li, Cheng Lu Wang, Ying Jiang, Bradley R. Barnes, and Hao Zhang (2014), "The Asymmetric Influence of Cognitive and Affective Country Image on Rational and Experiential Purchases," European Journal of Marketing, 48 (11/12), 2153-2175.
Ying Jiang and Jing Lei (2014), "The Effect of Food Toppings on Calorie Estimation and Consumption," Journal of Consumer Psychology, 24(1), 63-69.
Ying Jiang and Girish Punj (2010), "The Effects of Attribute Concreteness and Prominence on Selective Processing, Choice and Search Experience," Journal of the Academy of Marketing Science, 38, 471-489.
Dong Jin Li, Ying Jiang, An Sheng Hui, Zhe Shen, and Wenji Jin (2009), "The Influence of Money Attitudes on Young Chinese Consumers' Compulsive Buying," Young Consumers, 10 (2), 98-109.
Ying Jiang and Cheng Lu Wang (2006), "The Impact of Affect on Perceived Service Quality and Satisfaction: the Moderation of Service Context", Journal of Services Marketing, 20 (4), 211-217.
Ying Jiang, Robin Coulter, and S. Ratneshwar (2005), "Consumption Decisions Involving Goal Tradeoffs: the Impact of One Choice on Another," Advances in Consumer Research, 32, 206-211.

Fantinato, Marcelo, Patrick C. K. Hung, Ying Jiang, Jorge Roa, Pablo Villarreal, Mohammed Melaisi, and Fernanda Amancio, "A Preliminary Study of Hello Barbie in Brazil and Argentina," Sustainable Cities and Society, 40, 2018, 83-90.