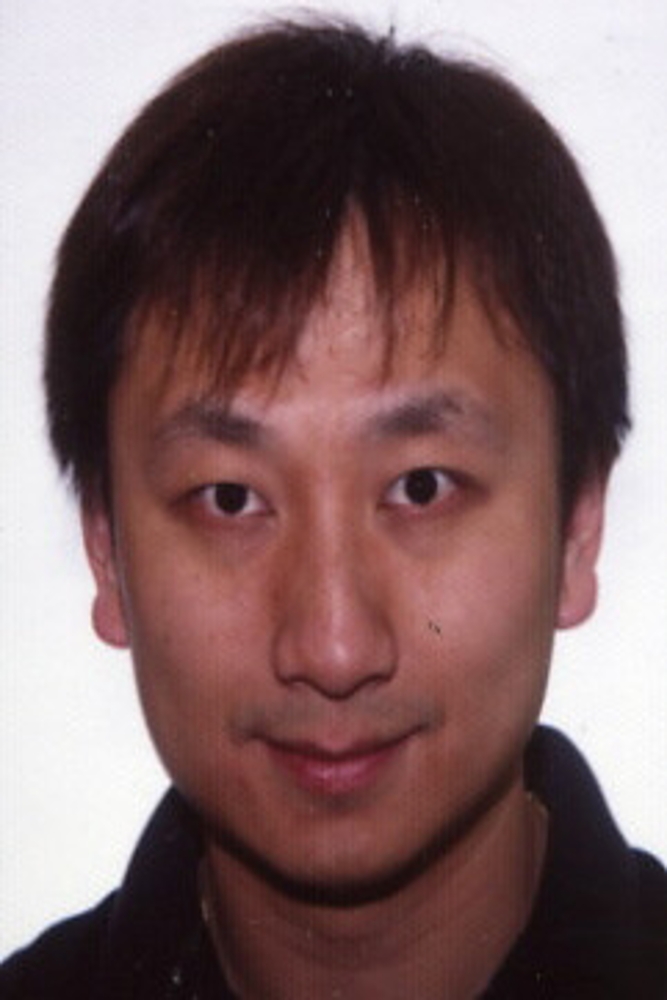 Patrick Hung

PhD
Director, International Programs
Graduate Program Director - CS, Professor
Information Security
Faculty of Business and Information Technology
Contact information
Business and Information Technology Building - Room 3026
North Oshawa
2000 Simcoe Street North
Oshawa, ON L1G 0C5
905.721.8668 ext. 2835
---
Research topics
smart toys
robotic computing
services computing
workflow
security and privacy
Background
Dr. Patrick Hung previously worked with Boeing Research and Technology in Seattle, Washington on aviation services-related research projects. He has two U.S. patents on the Mobile Network Dynamic Workflow Exception Handling System with Boeing in the U.S. He currently works with the College of Technological Innovation at Zayed University​ on several smart city and cybersecurity research projects in the United Arab Emirates. He is also a Visiting Researcher at the University of São Paulo, Brazil and National Technological University (UTN)-Santa Fe, Argentina.
He published two peer-reviewed Springer books, entitled Mobile Services for Toy Computing and Computing in Smart Toys, in 2015 and 2017, respectively. These two books dedicated to toy and robotic computing, a new discipline that explores how technology influences and enhances the development of smart toys and companion robots. He also chairs the Machine Learning, Robotic and Toy Computing minitrack and Computing in Smart Toys​ symposium in the Hawaii International Conference on System Sciences (HICSS). Recently he is working on the research idea of in-vehicle companion robots in Connected and Autonomous Vehicle (CAV).
He is an Honorary International Chair Professor at the National Taipei University of Technology, Taiwan and an Honorable Guest Professor at Shizuoka University, Hamamatsu, Japan. In addition, he was a Visiting Professor at the University of Aizu, Japan. He was also a Visiting Faculty Member at Hong Kong University of Science and Technology and the Chinese University of Hong Kong, and a Guest Professor at the University of Innsbruck, Austria, the University of Trento and the University of Milan, Italy.
Dr. Hung was a Research Scientist with the Commonwealth Scientific and Industrial Research Organization (CSIRO) in Canberra, Australia. He also has prior industrial experience in e-business projects in North America and Hong Kong. He is a founding member of the Institute of Electrical and Electronics Engineers (IEEE) Computer Society Technical Committee on Services Computing and related conferences:
IEEE International Conference of Web Services
IEEE International Conference on Services Computing
IEEE International Conference on Cloud Computing
IEEE Congress on Services
IEEE Congress on BigData
He received the IEEE TCSVC Outstanding Service Award in 2018. He is an Associate Editor of the IEEE Transactions on Services Computing, an Editorial Board Member for the IEEE Transactions on Engineering Management, and a Coordinating Editor of the Information Systems Frontiers by Springer.
From 2000 to 2004, he served as a panelist for the Small Business Innovation Research and Small Business Technology Transfer programs of the National Science Foundation (NSF) in the U.S.
He has studied at CLC Japanese Language Institute in Tokyo, Japan and completed Level 2, 3 and 4 Certificates of Japanese-Language Proficiency (administered by the Japan Foundation and Association of International Education Japan). He has also been a visiting PhD student at the Graduate School of Informatics, Kyoto University, Japan and RSA Laboratories West in San Mateo, California.
Education
PhD (Computer Science)

Hong Kong University of Science and Technology, Hong Kong

Master of Philosophy Science (Computer Science)

Hong Kong University of Science and Technology, Hong Kong

Master of Applied Science (Management Sciences)

University of Waterloo, Canada

Bachelor of Science (Computer Science)

University of New South Wales, Australia
Research and expertise
smart toys

robotic computing

services computing
workflow
security and privacy
Involvement
Peer-reviewed journals (selected)

Ziyan Wu, Zhihui Lu, Patrick C. K. Hung, Shih-Chia Huang, Yu Tong, and Zhenfang Wang, "QaMeC: A QoS-driven IoVs application optimizing deployment scheme in multimedia edge clouds," Future Generation Computer Systems, 2019.
Umair Khalida, Muhammad Asima, Thar Bakerb, Patrick C. K. Hung, and Muhammad Adnan Tariqa, "A Decentralized Lightweight Blockchain-based Authentication Mechanism for IoT Systems," Cluster Computing, 2019.
Farkhund Iqbal, Jahanzeb M. Mashmi, Benjamin C. M. Fung, Rabia Batool, Asad Masood Khattak, Asad Khatta, and Patrick C. K. Hung, "A Hybrid Framework for Sentiment Analysis using genetic Algorithm based Feature Reduction," The IEEE ACCESS, 2019.
Bobo Huang, Li Jin, Zhihui Lu, Xin Zhou, Jie Wu, Qifeng Tang, and Patrick C.K. Hung, "BoR: Toward High-Performance Permissioned Blockchain in RDMA-enabled Network," IEEE Transactions on Services Computing (TSC), 2019.
Patrick C. K. Hung and M. Brian Blake, "Reflecting on Two Decades of Services Computing." IEEE Internet Computing. 2018.
Farkhund Iqbal, Patrick C. K. Hung, Fazli Wahid, and Suaad Mohammed Qayed Ahmed Mohammed, "A Glance at Research-Driven University's Technology Transfer Office in the UAE," International Journal of Technology Management, 2018.
You Ma, Shangguang Wang, Patrick C.K. Hung, Ching-Hsien Hsu, Qibo Sun, and Fangchun Yang, "A Highly Accurate Prediction Algorithm for Unknown Web Service QoS Values," IEEE Transactions on Services Computing (TSC), 2018.
Patrick C. K. Hung, Kamen Kanev, Farkhund Iqbal, Shih-Chia Huang, and Benjamin C. M. Fung, "Smart TV Face Monitoring for Children Privacy," Special Issue on "Behavior Data Analytics for Cybersecurity," Journal of Internet Technology, 2018.
Chao Wang, Xi Li, Qi Yu, Aili Wang, Patrick C. K. Hung, and Xuehai Zhou, "SOLAR: Services-oriented Deep Learning Architectures," IEEE Transactions on Services Computing (TSC), 2018.
Zhihui Lu, Xueying Wang, Jie Wu, and Patrick C.K. Hung, "InSTechAH: Cost-Effectively Autoscaling Smart Computing Hadoop Cluster in Private Cloud," Journal of Systems Architecture, 2018.
Jian Shen, Anxi Wang, Chen Wang, Xingming Sun, and Patrick C. K. Hung, EECRP: Energy Efficient Centroid-based Routing Protocol for Wireless Sensor Networks, IEEE Access, 2018.
Sarah A. Alkhodair, Benjamin C. M. Fung, Osmud Rahman, and Patrick C. K. Hung, "Improving interpretations of topic modeling in microblogs," Journal of the Association for Information Science and Technology (JASIST), 2018.
Khalil Al-Hussaeni, Benjamin C. M. Fung, Farkhund Iqbal, Jimmu Liu, and Patrick C. K. Hung, "Differentially-private Multidimensional Data Publishing," Knowledge and Information Systems (KAIS), 2018.
Zhihui Lu, Jie Wu, Jie Bao, and Patrick C. K. Hung, "OCReM:OpenStack-based Cloud Datacenter Resource Monitoring and Management Scheme," the International Journal of High Performance Computing and Networking, 2018.
Marcelo Fantinato, Patrick C. K. Hung, Ying Jiang, Jorge Roa, Pablo Villarreal, Mohammed Melaisi, and Fernanda Amancio, "A Survey of Smart Toy in South America," Sustainable Cities and Society, 2018.
Ana Rocío Cárdenas Maita, Lucas Corrêa Martins, Carlos Ramón López Paz, Laura Rafferty, Patrick C. K. Hung, Sarajane Marques Peresa and Marcelo Fantinato, A Systematic Mapping Study of Process Mining, Enterprise Information Systems (TEIS), 2017.
Jian Yang, Zhihui Lu, Nini Wang, Jie Wu, and Patrick C.K. Hung, "Multi-policy-aware MapReduce Resource Allocation and Scheduling for Smart Computing Cluster," Journal of Systems Architecture, 2017.
Dapeng Zhao, Yuanyuan Jin, Kai Zhang, Xiaoling Wang, Patrick C. K. Hung, and Wendi Ji, "EPLA: efficient personal location anonymity," Geoinformatica, 2017.
Wuhui Chen, Incheon Paik, and Patrick C. K. Hung, "Transformation-based Streaming Workflow Allocation on Geo-Distributed Datacenters for Streaming Big Data Processing," IEEE Transactions on Services Computing (TSC), 2017.
Maruscia Baklizky, Marcelo Fantinato, Lucineia Heloisa Thom, Violeta Sun, and Patrick C. K. Hung, "Business Process Point Analysis: Survey Experiments," Business Process Management Journal, 2017.
Jian Shen, Chen Wang, Anxi Wang, Xingming Suna, Sangman Mohd, and Patrick C. K. Hung, "Organized Topology Based Routing Protocol in Incompletely Predictable Ad-hoc Networks," Computer Communications, 2017.

Conference peer-reviewed full papers (selected)

Maria E. de A. Cardoso, Fernando de A. Freitas, Felipe V. Barbosa, Clodoaldo A. de M. Lima, Sarajane Peres, and Patrick C. K. Hung, "Automatic segmentation of grammatical facial expressions in sign language: towards an inclusive communication experience.," the 53rd Hawaii International Conference on System Sciences (HICSS-53), Maui, Hawaii, January 7-10, 2020. 

Benjamin Yankson, Farkhund Iqbal, Patrick C. K. Hung, Anna Priscilla De Albuquerque, Saiqa Aleem, and Babar Shah, "A Privacy-Preserving Context Ontology (PPCO) for Smart Connected Toys," the 

12th CMI conference, Copenhagen, Denmark, November 28-29, 2019.​

Anna Priscilla de Albuquerque, Judith Kelner, and Patrick C. K. Hung, "Human-centered design 

tools for smart toys," the IEEE International Symposium on Cloud and Service Computing (SC2), Kaohsiung, Taiwan, November 18-21, 2019.

André de Lima Salgado, Felipe Silva Dias, João Pedro Rodrigues Mattos, Renata Pontin de Mattos Fortes, and Patrick C. K. Hung, "Smart toys and children's privacy: usable privacy policy insights from a 

card sorting experiment," the 37th ACM International Conference on the Design of Communication (SIGDOC '19), Portland, Oregon, United States, October 4- 6, 2019.

Lara Pontes, Gustavo Coutinho, Patrick C. K. Hung, and Benjamin Yankson, "Security in Smart 

Toys: A Systematic Review of Literature," the International Conference on Human-Computer Interaction (HCII 2019), Orlando, USA, July 26-31, 2019. 

Pei-Chun Lin, Benjamin Yankson, Zhihui Lu, and Patrick C. K. Hung, "Children Privacy Identification 

System in LINE Chatbot for Smart Toys," the IEEE International Conference on Cloud Computing (IEEE CLOUD 2019), Milan, Italy, July 8-13, 2020.

Laura Rafferty, Farkhund Iqbal, Saiqa Aleem, Zhihui Lu, Shih-Chia Huang, and Patrick C. K. Hung, "Intelligent Multi-Agent Collaboration Model for Smart Home IoT Security," the IEEE International 

Congress on Internet of Things (IEEE ICIOT 2018), MIlan, Italy, July 8-13, 2020. 

Ahmed Badr, Laura Rafferty, Qusay H Mahmoud, Khalid Elgazzar, and Patrick C. K. Hung, "A Permissioned Blockchain-Based System for Verification of Academic Records," the 10th IFIP International Conference on New Technologies, Mobility and Security (NTMS), Canary Islands, Spain, June 24-26, 2019.

Salam Khanji, Farkhund Iqbal, and Patrick C. K. Hung, "ZigBee Security Vulnerabilities: Exploration 

and Evaluating," the 10th International Conference on Information and Communication Systems, Irbid, Jordan, June 11-13, 2019​.

P.-C. Lin, David Mettrick, Patrick C. K. Hung, and Farkhund Iqbal, "Robot Computing for Music 

Visualization" the 15th Annual Conference on Theory and Applications of Models of Computation (TAMC 2019), Kitakyushu, Japan, April 13-16, 2019​. 
Fernanda Amancio, Marcelo Fantinato, Patrick C. K. Hung, Jorge Roa, and Luis Gustavo Coutinho do Rêgo, "Evaluation of the perception of Brazilians about smart toys and children's privacy," The Latin American Computing Conference 2018 (CLEI 2018), Universidade Presbiteriana Mackenzie (UPM) - Campus Higienópolis, São Paulo, Brazil, October 1 - 5, 2018.

Marcelo Fantinato, Filipe Palma, Laura Rafferty, and Patrick C. K. Hung, "Enhancing Project Management for Cyber-physical Systems Development," the Federated Conference on Computer Science and Information Systems (FedCSIS), Poznań, Poland,  9-12 September, 2018.
Laura Rafferty, Farkhund Iqbal, Saiqa Aleem, Zhihui Lu, Shih-Chia Huang, and Patrick C. K. Hung, "Intelligent Multi-Agent Collaboration Model for Smart Home IoT Security," the IEEE International Congress on Internet of Things (IEEE ICIOT 2018), San Francisco, USA, July 2 - 7, 2018.
Musaab Hasan, Farkhund Iqbal, Patrick C. K. Hung, Benjamin C. M. Fung, and Laura Rafferty, "A Security Study for Smart Metering Systems," the 20th International Conference on Smart Cities and Infrastructure (ICSCI 2018), Paris, France, January 25-26, 2018.
Marcelo Fantinato, Patrick C. K. Hung, Ying Jiang, Jorge Roa, Pablo Villarreal, Mohammed Melaisi, Fernanda Amancio, "Perceived Innovativeness and Privacy Risk of Smart Toys in Brazil and Argentina," the IEEE 51st Hawaii International Conference on System Sciences (HICSS-51), Big Island, Hawaii, USA, January 3-6, 2018.
Federico Gelsomini, Kamen Kanev, Patrick C. K. Hung, Bill Kapralos, Michael Jenkin, Reneta Barneva, and Mariagioia Vienna, "BYOD Collaborative Kanji Learning in Tangible Augmented Reality Settings," the 16th International Conference on Global Research and Education, Lasi, Romania, September 25-28, 2017.
Farkhund Iqbal, Andrew Marrington, Patrick C. K. Hung, Jing-Jie Lin, Guan-Pu Pan, Shih-Chia Huang, and Benjamin Yankson, "A Study of Detecting Child Pornography on Smart Phone," the 20th International Conference on Network Based Information Systems (NBiS-2017), Toronto, Canada, August 24-26, 2017.
Ana Rocío Cárdenas Maita, Marcelo Fantinato, Sarajane Marques Peres, Lucinéia Heloisa Thom, and Patrick C. K. Hung, "Mining Unstructured Processes: An Exploratory Study on a Distance Learning Domain," the International Joint Conference on Neural Networks (IJCNN 2017), Anchorage, AK, USA, 2017, pp. 3240-3247.
Marcelo Fantinato, Adson Carmo, Lucinéia Heloisa Thom, Edmir Prado, Mauro Spinola and Patrick C. K. Hung, "An Analysis of Strategic Goals and Non-Functional Requirements in Business Process Management," the 19th International Conference on Enterprise Information Systems (ICEIS), Porto, Portugal, April 26-29, 2017.
Laura Rafferty, Patrick C. K. Hung, Marcelo Fantinato, Sarajane Marques Peres, Farkhund Iqbal, Sy-Yen Kuo, and Shih-Chia Huang, "Towards a Privacy Rule Model for Smart Toys," the IEEE 50th Hawaii International Conference on System Sciences (HICSS-50), Big Island, Hawaii, USA, January 4-7, 2017.
Jorge Roa, Pablo D. Villarreal, Marcelo Fantinato, Patrick C. K. Hung, and Laura Rafferty, "Institutional Violence Complaints in Argentina: A Privacy Study," the IEEE 50th Hawaii International Conference on System Sciences (HICSS-50), Big Island, Hawaii, USA, January 4-7, 2017.

Guest editorial special issues (selected)

"Services Computing Management for Artificial Intelligence and Machine Learning" in the IEEE Transactions on ENGINEERING MANAGEMENT (with Dr. Michael Goul, Dr. Haluk Demirkan, and Dr. Shih-Chia Huang), 2019
"Internet of Things (IoT) for In-Vehicle Systems" in the Engineering Applications of Artificial Intelligence (with Dr. Shih-Chia Huang, Dr. Jenq-Neng Hwang, Dr. Sy-Yen Kuo, Dr. Alecio P. D. Binotto, and Dr. Devesh Upadhyay), 2019
"Deep Learning, Ubiquitous, and Service-Oriented Data" in the Journal of the Chinese Institute of Engineers (with Dr. Hamad Binsalleeh, Dr. Young Yoon, Dr. Uwe Breitenbücher, and Dr. Bhekisipho Twala), 2019
"Artificial Intelligence and Machine Learning for Service Oriented Architecture​" in the Journal of Database Management (with Dr. Dickson K. W. Chiu and Dr. Eleanna Kafeza), 2019
"Cloud Connected Smart Toys and Applications" in the Electronic Commerce Research and Applications (with Dr. Shih-Chia Huang, and Dr. Sarajane Marques Peres), 2019
"Computing in Smart Toys and Related Internet of Things (IoT) Applications" in the Journal of Systems Architecture (with Dr. Marcelo Fantinato, Dr. Jorge Roa, Dr. Renata Pontin M. Fortes, and Dr. Shih-Chia Huang), 2019
"Deep Learning, Ubiquitous and Toy Computing" in the ACM Computers in Entertainment Journal (with Dr. Alvaro Quevedo, Dr. Shih-Chia Huang, and Dr. Sarajane Marques Peres), 2018
"Big Data Analytics and Business Intelligence in Industry" in the Information Systems Frontiers (with Dr. Shih-Chia Huang, Dr. Suzanne McIntosh, and Dr. Stanly Sobolevsky), 2017
"Big Data Applications" in the International Journal of Web Services Research (with Dr. J. Octavio Gutierrez-Garcia, and Dr. Víctor M. González), 2017
"Big Data Applications and Use Cases" in the International Journal of Web Services Research (with Dr. Shih-Chia Huang), 2017​