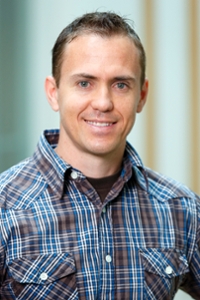 Richard W. Pazzi

PhD
Associate Professor
Next Generation Wireless Networks and Applications
Faculty of Business and Information Technology
Contact information
Energy Systems and Nuclear Science Research Centre (ERC) - Room 2023
North Oshawa
2000 Simcoe Street North
Oshawa, ON L1G 0C5
905.721.8668 ext. 5425
---
Research topics
vehicular ad hoc networks
wireless sensor networks
multimedia streaming
performance evaluation
algorithm design
Background
Prior to joining Ontario Tech University, Dr. Richard Pazzi was appointed Senior Research Manager of the Natural Sciences and Engineering Research Council of Canada (NSERC) Developing Next Generation Intelligent Vehicular Network and Applications (DIVA) Strategic Research Network (2010 to 2012). In this position, he oversaw the network activities and conducted research in the area of intelligent vehicular networks.
Other appointments:
Program Co-Chair, Institute of Electrical and Electronics Engineers Global Communications Conference (IEEE GLOBECOM): Next-Generation Networking Symposium (NGN), Austin, Texas. December 2014.
Program Co-Chair, Association for Computing Machinery (ACM) International Symposium on Design and Analysis of Intelligent Vehicular Networks and Applications (2011).
Program Co-Chair, ACM International Workshop on Performance Monitoring, Measurement and Evaluation of Heterogeneous Wireless and Wired Networks (2011-2012).
Reviewer for the IEEE Transactions on Vehicular Technology, IEEE Computer Graphics and Applications, IEEE Transactions on Parallel and Distributed Systems, Elsevier's Computer Networks, and Elsevier's Journal of Parallel and Distributing Computing.
Technical Program Committee member in a number of IEEE/ACM international conferences.
Education
PhD in Computer Science

University of Ottawa in Ottawa, Ontario

2008
Research and expertise
data dissemination in wireless sensor networks
multimedia communications and quality of service (video delivery in vehicular sensor networks and applications)
networked 3D virtual environments (network protocols and 3D content partitioning; serious games)
vehicular and sensor networks (integration of different wireless technologies; mobility management; data mining)
vehicular cloud computing
For his PhD, Dr. Pazzi investigated and developed novel interactive multimedia communication protocols and energy-efficient data gathering mechanisms for wireless sensor networks. His research interests include communication protocols for vehicular and sensor networks, mobile data gathering in wireless sensor networks, and the convergence of sensor networks and interactive 3D virtual environments to support training and monitoring applications (serious games). His research outcomes have been published in prestigious international journals and conferences.
Best Paper Award – Fifth International Conference on Advances in Vehicular Systems (VEHICULAR 2016)
Best Paper Award - IEEE Symposium on Computers and Communications (ISCC 2015)
Best Research Paper Award from the IEEE International Conference on Communications (ICC 2009)
Best Research Paper Award from the IEEE International Wireless Communications and Mobile Computing Conference (IWCMC 2009)
Elsevier's Top Cited Article Award (2005–2010) for work published in the Journal of Parallel and Distributed Computing (JPDC 2006)