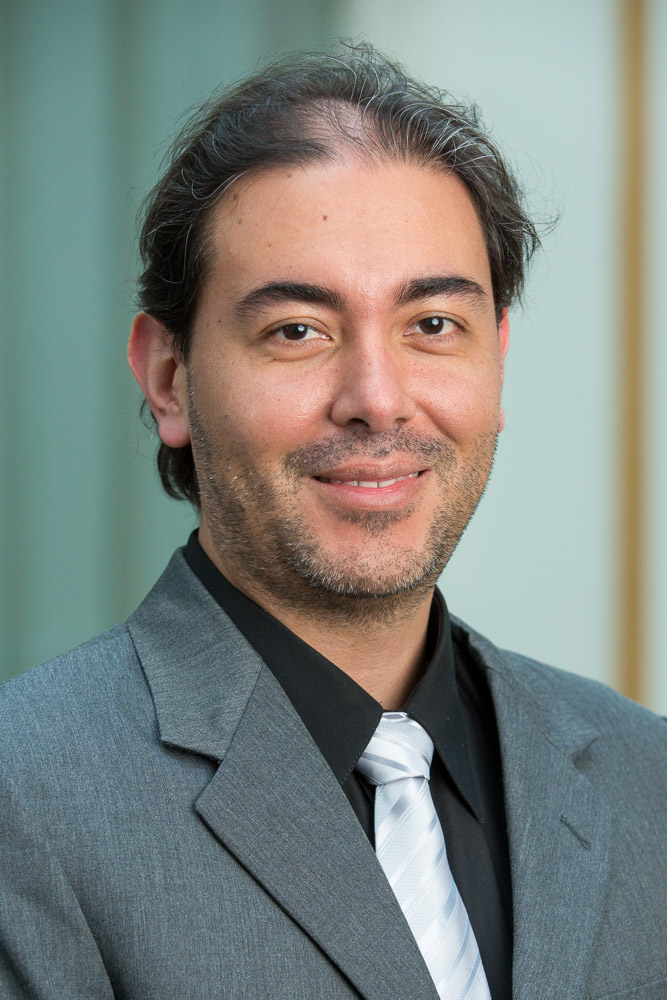 Alvaro Joffre Uribe Quevedo

PhD (On Research Leave)
Associate Professor
Game Development and Interactive Media
Faculty of Business and Information Technology
Contact information
Software and Informatics Research Centre (SIRC) - Room 4385
North Oshawa
2000 Simcoe Street North
Oshawa, ON L1G 0C5
905.721.8668 ext. 2615
---
Research topics
virtual reality
3DUI
serious games
simulation
mechatronics
HCI
Background
My interest in immersive technologies began when I started working with virtual reality (VR) as part of my undergraduate Mechatronics Engineering studies. I had the opportunity to implement and develop several simulations for industrial processes and mechanical design. After witnessing the vast number of VR applications and its potential impacts outside of engineering, I pursued an engineering VR developer position at the Virtual Reality Center at the Universidad M. Nueva Granada University in 2004. That experience led me to expand my understanding of VR and simulation while engaging in further medical applications, including periodontal ligament simulation and anatomical 3D visualizations. As a result, I had the opportunity to design a VR undergraduate course, which I taught for two years to students in the Mechatronics and the Multimedia Engineering programs at the Universidad M. Nueva Granada in Bogotá, Colombia.
In 2007, I pursued graduate studies at the Mechanical Engineering Department at the Universidade Estadual de Campinas, in São Paulo, Brazil. My master's work involved the development of a VR environment for teleoperating a human-like gripper within a robotics work-cell. For my doctoral work, I was awarded a scholarship from the São Paulo Research Foundation (FAPESP). My research focused on designing a lower-limb exoskeleton coupled with a VR scenario to help those with reduced mobility engage in assisted physiotherapy. It was during my doctoral studies that I obtained a broader understanding of the importance of simulated scenarios in health care, and since then, I have been working with VR, human-computer interactions (HCI), and games.
Upon completing my graduate studies, in 2012 I obtained an Assistant Professor tenure-track position at the Universidad M. Nueva Granada, where I acquired grant-based funding to conduct research on VR focusing on medical applications. As a result of my research, I obtained a postdoctoral fellow position, which started on September 21, 2015 at the Games Institute at the University of Waterloo. My postdoctoral research focused on serious games and game-based learning, aiming to better understand the role of game technologies to improve transfer and retention of knowledge in medical training.
Education
Postdoctoral Fellow

University of Waterloo, Waterloo, Ontario, Canada

2016

PhD in Mechanical Engineering

Universidade Estadual de Campinas, São Paulo, Brazil

2011

MSc in Mechanical Engineering

Universidade Estadual de Campinas, São Paulo, Brazil

2008

Mechatronics Engineering

Universidad Militar Nueva Granada, Bogota, Columbia

2003
Research and expertise
My research in VR has led to interdisciplinary collaborations seeking to find innovative approaches to address challenges in various fields. More specifically, I have focused on medical applications where VR can provide immersive, interactive and effective complementary tools to practise procedures such as cardiac auscultation, intra-venous and intra-osseus access, and eye examination. Alongside my research in VR, a component that plays an important role in its adopting is engagement. Researching games has led me to investigate the design and use of VR and 3D user interfaces towards creating interactive and meaningful scenarios. Areas of application of this research have led to project in health care in the form of exer games and serious games.